There are tons of websites in millions of niches online.
You might be thinking that no matter what you center your website around it will be profitable.
But that is not the case when it comes to making money with affiliate marketing online.
While some niches have very passionate people that you can get to your site. But that doesn't mean that they will be the type of passionate people that spend money.
You need to be able to find profitable niches for affiliate marketing websites in order to bring in a profit. And in order to have a profitable niche, you need to have a niche that attracts people who are both passionate and wanting to spend money on that niche.
*This post may contain affiliate links. This means if you click on the affiliate link I will receive a commission at no extra cost to you.
3 Tips for Finding a Profitable Niche for Affiliate Marketing
Check Out Popular Marketplaces
Sites like Amazon, Ebay, or even ClickBank will give you tons of knowledge about what niche people are spending money in.
A great example is the survival niche.
Researching products on Amazon and info products that are selling on ClickBank will show you what people are willing to buy.
Tactical flashlights, water purifiers, and fire starter kits would be some things people would be buying on Amazon and other marketplaces online. Looking for the amount of reviews on these items will give you an idea of how often they are selling.
Checking the survival niche on Clickbank and ordering everything by the Gravity of the products will show you if people are buying these products.
This will immediately tell you if this particular niche is profitable for affiliate marketing, and people are willing to spend money on products and learning more about the intracies of the niche.
However, if you're in a niche such as 'system administration', you would notice there are not many products for this beyond some books. And there's not much in the higher paying commissions for courses.
This is DESPITE the fact that the niche has many passionate people. It's just very easy to get most of the info you need to do this for free and they aren't going to be paying for anything when they can get what they need for no cost.
Look for Problems
One of the best tips for making money is to look for a problem and solve it for people.
If you are looking at a niche and you find a major problem that people desperately need solved, you have found a profitable niche.
Some examples of niches that revolve around problems are weight loss or how to stop back pain. People have a problem and they are searching for a way to stop that problem in it's tracks. And on top of that they are willing to pay to solve that problem, and solve it fast.
When you find a possible profitable niche that has a problem people are looking to solve, spend some time researching that niche. This will allow you to see what specific problems people are having and how you can help them solve this problem.
It might be through an informational product, a free trial sign up, or a certain product that will help them achieve their goal. When you find this out, you want to direct your website visitors through your affiliate link to the solution.
Utilize SEO Tools and Analytical Tools
Once you have identified a possible profitable niche for a niche affiliate site, you need to use some SEO analytical tools to help you do some keyword research.
Using these tools for keyword research will help you identify if there are some under targeted keywords in the niche that you can use to create your content and start getting people to your niche site.
While SEO tools like SEMrush or Ahrefs can be expensive, there are some alternatives that cost much less.
My favorite SEO tool to use is Keysearch.co. The monthly cost is one you can't beat. You can give it a try for free here.
Another tool is Google Trends. This tool will help you see if the niche is one that will be evergreen or if it will be a seasonal niche and your profitability will cycle.
Choosing a niche that is evergreen will help you create a more stable income since you won't have to wait until a certain point in the year to get your audience.
One consideration, if you are looking at a more seasonal niche is just how profitable it will be during it's season. If it is something that can be lucrative enough to support you all year in the few months that the traffic is around for, then it might still be a viable niche to look into building a niche site around.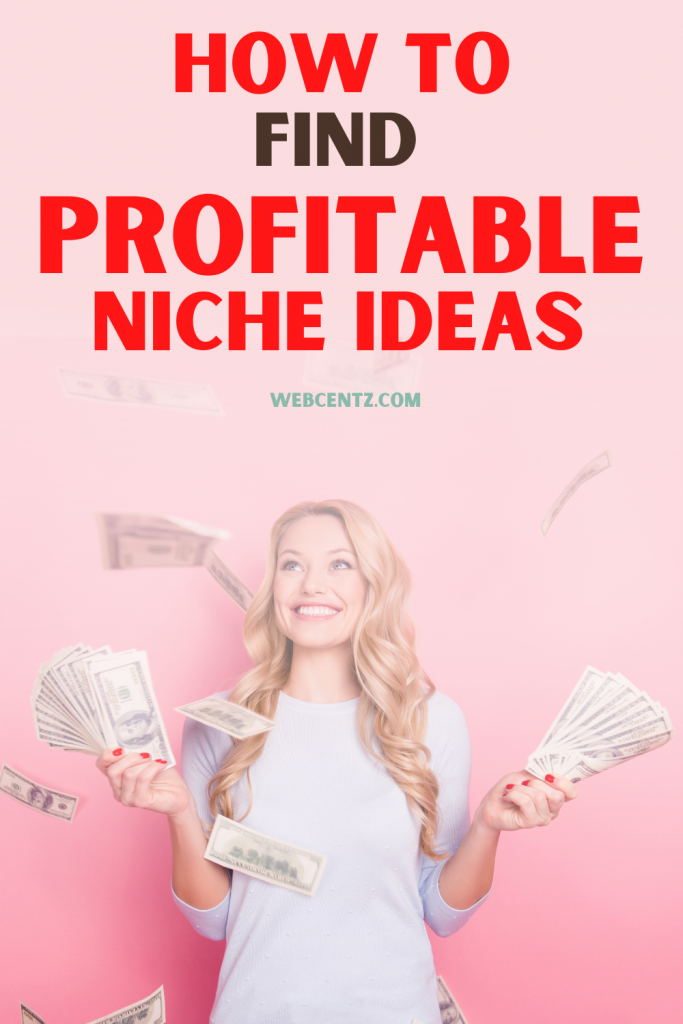 Making a Profitable Niche Work For You
In the end, when it comes to finding a profitable niche for an affiliate site, you need to decide for yourself if it is worth your time.
You have to keep in mind the amount of work you are going to have to put into your niche site. In the beginning of your affiliate marketing journey this can be a bit more time consuming than once you are more experience creating niche websites.
Remember the more profitable the niche, the more competition there will be, which in turn means the more work you will have to put into your niche site.
As long as there are problems people have and people are passionate about things, there will be niche opportunities for you in affiliate marketing.
But as with everything, you only get out of it what you put into it. No matter how many times you see "Effortless Passive Income" being touted, affiliate marketing that works is no such thing. So make sure you are willing to put in the work. If you do it will be rewarding.