With the popularity of internet purchases and the ease that comes with ordering anything you need online, more and more people are looking at ways they can earn money online using affiliate marketing.
Affiliate marketing provides a way to earn income by working from home. And it has grown in popularity over the years.
Successful affiliate marketers have been able to move from using affiliate marketing to bring in a part time income to getting a full time income. Enabling them to leave their normal 9 to 5 job to peruse even more income from affiliate marketing.
Affiliate marketing continues to grow, especially as current events move more purchases to being done online. This makes it a very enticing online income opportunity.
As with any change, starting a new job as an affiliate marketer is risky. You either make it as an affiliate marketer getting a full time income online, or you don't.
Affiliate marketing does not have a huge money barrier to get started. It allows you to slowly get into the business without taking a huge risk. This way you can see if affiliate marketing is for you.
If you are new to affiliate marketing, then this article is for you. Here, we will go over the basics of affiliate marketing for beginners.
What is Affiliate Marketing?
Before we get into the details of how to do affiliate marketing, we need to cover what affiliate marketing is.
So what is affiliate marketing?
Affiliate marketing is a marketing arrangement between an online retailer and an affiliate marketer. The retailer pays a commission to the affiliate marketer for sending customers to them to make purchases or complete a certain action.
Basically, you become an advertiser for this merchant and the service or product they offer.
This relationship between the retailer and marketer is done through an affiliate program. It is a partnership with terms that both parties agree upon.
There are different ways to start these agreements with online retailers and online businesses. You can either join the business's affiliate program directly or through an affiliate network.
Most times affiliate marketers drive traffic to the business through blog posts, social media, paid ads or email lists.
You send traffic to the merchant by using links given to you through the affiliate program. This specific link lets the merchant know who sent the customer. Then if that customer makes a purchase, that unique link will allow you to get the comissions for the sale.
*This post may contain affiliate links. This means if you click on the affiliate link I will receive a commission at no extra cost to you.
Do You Need a Website For Affiliate Marketing?
You don't always need a website for affiliate marketing, but it is usually best to have one.
Many affiliate programs will not approve potential marketers if they do not have a website.
Even with guru's showing you how to make money on social media with affiliate marketing with no website, you will probably run into not getting into the programs initially due to the lack of a website.
An easy cheap way to get a website and email for your website, if the best performance isn't a big issue for you, is to get a hosting package and domain name through NameCheap. You can grab a domain name and hosting package for a year for as low as $40 (or even less when on sale).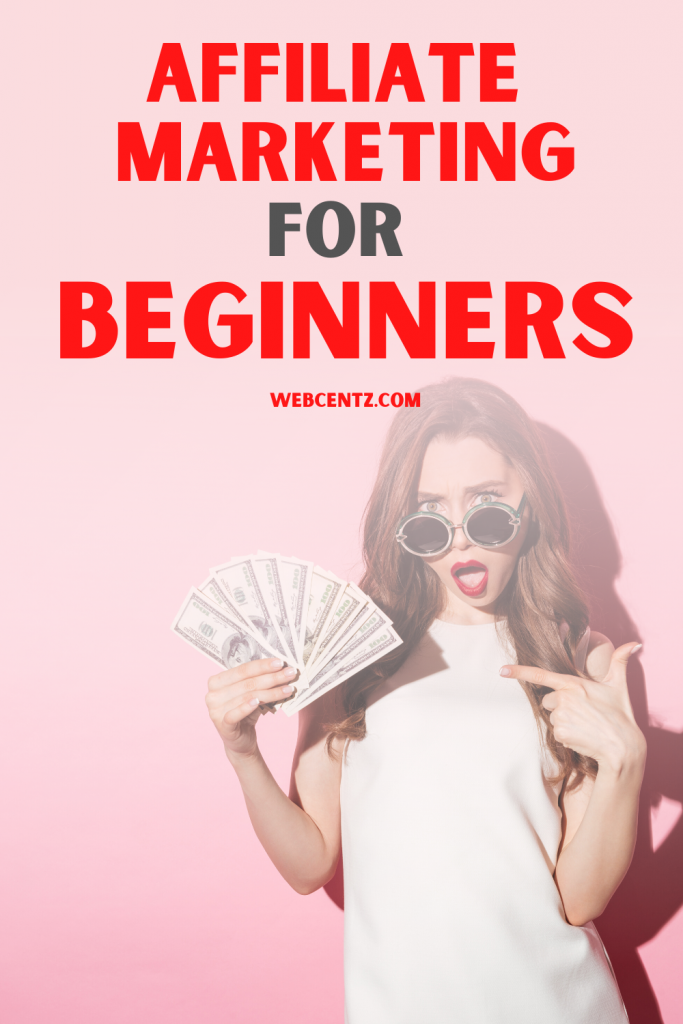 Affiliate Marketing for Beginners: Affiliate Programs and Affiliate Networks
You will see these two terms many times when you start with affiliate marketing as a beginner, and you might think they are the same thing. But they are not.
Affiliate Networks are places like ShareASale, Awin or VigLink. These affiliate networks have hundreds to thousands of different affiliate programs you can join through the affiliate network.
Affiliate programs are from individual businesses. Businesses might host their own affiliate program or they might have their affiliate program offered through an affiliate network.
When you use an affiliate network, you get approved by individual merchants/businesses within the affiliate network. The affiliate network handles payments and tracking of sales and any link click reports that they may offer you for tracking. You will receive your payment from the affiliate network.
When you use an individual affiliate program you sign up with that business through their own platform and they will provide you with any tracking and reports. You will be paid by the merchant themselves in this affiliate setup.
How Does Affiliate Marketing Work?
As an affiliate marketer, you seek out products that you want to promote.
Many products or services that you use within your niche probably already have affiliate programs, so this makes it even easier as the marketer to promote them as you have first hand knowledge of the product.
One of the easiest ways to find affiliate programs is to just use Google or any search engine of your choice and look up the product plus "affiliate program".
So if you wanted to look for NameCheap's affiliate program you would just search for: NameCheap "affiliate program". In this example you will find a page on NameCheap's website linking you to 3 different networks that you can use to join their affiliate program. Just choose which one you would like to use and sign up.
Once you are approved for the affiliate program you can link to the product or service through affiliate links. You can add these affiliate links to blog posts, social media posts, niche website content, YouTube videos, or emails to your email list.
The possibilities of how you can use affiliate links are only limited to the Terms of Service you agreed to when joining the affiliate program. Every affiliate program has terms and conditions for their program. Make sure to read the terms and conditions each time you sign up with a program. This way you know what you are allowed and not allowed to do when it comes to promoting affiliate links.
What Are The Different Types of Affiliate Programs?
CPS (Cost Per Sale) Affiliate Programs
Cost Per Sale affiliate programs are the most common type of affiliate program.
CPS means that you will earn a commission when a sale is made through your affiliate link.
CPA (Cost Per Action) Affiliate Programs
Cost Per Action affiliate programs are the second most common type of affiliate program.
With CPA affiliate programs you received a flat fee every time an agreed upon action is completed by the customer you referred.
The actions for CPA can be anything from an email sign up, free trial sign up, or a sale being made.
Most of the time for CPA affiliate programs, the merchant is paying you for lead generations.
CPC (Cost Per Click) Affiliate Programs
This is a harder type of affiliate program to find.
Way back when, in the early days of affiliate marketing, it was much more common. But CPC affiliate programs aren't around as much today.
With this type of affiliate program, you are paid per click through your affiliate link. So if you have 10 people click on your link for $0.10 per click, you would get $1 for those 10 people clicking on your link.
Even though these are rare, they are still out there and can be great to get money flowing. Getting people to click on a link is much easier than getting them to buy something.
Getting Approved For Affiliate Programs
Some places that you apply for will not always accept you, it happens even to more experienced affiliate marketers.
One trick that can be used to get around this, is to make sure you are signed up for a network like VigLink or SkimLinks. Networks like these will have you pre-approved for many affiliate programs. This way you have access to a number of programs you might not get approval for right away. Especially when just starting in affiliate marketing.
The catch to this is that VigLink actually takes a part of your commissions. So they won't be quite as high of earnings as if you signed up for the affiliate program normally. But it beats no comissions at all.
Once you are sure that you are able to bring in a steady sales for that merchant, you can re-apply. This way you can show them proof that you are able to send them sales.
Using this tactic to test out individual affiliate programs is also nice to do too. I like to use this to make sure the product or service will convert before going through applying and approval for the individual program.
Not Sure Where to Start?
If you are new to affiliate marketing, and have no clue where to begin to start making money with affiliate marketing, then I highly suggest you check out Spencer from Buildapreneur.
He teaches affiliate marketing in a very down to earth way that helps even complete newbies get started making money with affiliate marketing.
You can check out his free webinar here.